Can You Work and Still Be a Family Caregiver?
When your senior family member suddenly needs more of your time and your energy, you may worry that this means you have to give up your career. Even if you wanted to do so, that might be more difficult than you expect. The truth is that you can still keep up with all of your obligations, but it might require more mindfulness and having some help. 
Family Caregivers Balance a Lot at Once
Most family caregivers these days aren't just family caregivers. Often, they're caring for children, spouses, and maybe even other family members in addition to an aging family member. That doesn't even take into account the other obligations, like participating in their community and having a career. Those are a lot of different roles to keep balanced, and it's not easy. 
You May Not Have Much Choice 
Something else to consider is that you might not have a lot of choice between working or being a full-time family caregiver. Most people aren't able to walk away from their career, primarily for financial reasons, so it can feel as if you're stuck in a situation that looks like it doesn't have any good options. 
But That Doesn't Mean You Don't Have Options 
The truth is, there are still some options that can make life easier. First, find out what supports might be available through your employer. Many companies offer quite a lot of support for people who are caring for family members. Also, hiring elderly care providers helps to ensure that your senior is in experienced hands while you have to tend to other obligations. These options can help both you and your senior. 
Prioritize Self-care as Much as You Can 
When you're handling multiple big obligations at once, including being a family caregiver, it's even more essential that you're prioritizing your own self-care. Make sure that you're getting plenty of sleep, that you're eating healthy foods, and that you're exercising as much as your own doctor recommends. Following these "rules" is going to help you to be in the best condition possible to keep up with all of the different demands that you're facing. 
Being a full-time family caregiver doesn't mean that you have to give up the rest of your life. But it might mean that you do have to be more intentional about what your boundaries are and about how you spend the bulk of your time. 
If you or someone you know needs help with Elderly Care in East Grand Rapids, MI, contact Gauthier Family Home Care. We provide quality and affordable home care services in our community. Call us at (616) 258-2300 for more information.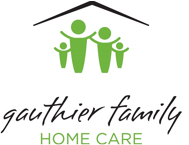 Latest posts by Gauthier Family Home Care
(see all)