Please join me in congratulating Patricia Slaick as we honor her as our October Caregiver of the Month!  
Trish has been with GFHC for nearly a year. During that time she has become one of the "Life Savers" that our schedulers praise because of the multiple times she has "saved the day" and agreed to help out when nobody else would take a shift. She only wanted part time when she first came to us. And yet, she typically takes on more (sometimes overtime) because her heart is so big and she has such a heart for this business! The clients that meet her absolutely adore her and continue to sing her praises as well. She has a nurturing way about her that puts the clients at ease during a time when homecare can feel very scary and intrusive.
Something else our schedulers adore: Trish is happy to take on a short shift – something we struggle to get covered on a constant basis. In this business, more and more clients want short shifts, and more and more caregivers don't. So, finding folks who are happy to help with those can be hard to find. She alleviates stress for our schedulers in this way and that alone is worth a thousand thank you's! Trish also has a great attendance record and that's something every company out there covets! She takes her commitment very seriously once she takes on a shift. She only calls off when it is absolutely necessary for her own health, and for that – WE THANK YOU!
Another quality about Trish that we absolutely adore is that when there IS something that bothers her, she tells us. We love that because we love our caregivers and want them to tell us when something isn't going well so that we can try and fix things for them. We'd rather be given an opportunity to fix it than for her to become unhappy and go somewhere else. Communication is pertinent to our success and we appreciate that Trish is so great at this!
For all of the reasons listed here, we want to honor Trish as our October Caregiver of the Month with a very big THANK YOU! She's an incredible advocate to have on our team and we feel honored to work with her.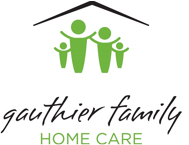 Latest posts by Gauthier Family Home Care
(see all)