CAREGIVER OF THE MONTH November 2013 Grand Rapids, MI
Recently our business has doubled its hours with the onset of successive 24/7 cases.  One is long term, and we were engaged to staff up for two successive hospice cases.  Not one, not two, but three 24/7 cases inside of two weeks!  Staffing up for one is monumental; getting three going is a miracle!  Thank God for April, our scheduler, and all the excellent caregivers who stretched their availability to make sure our clients were comfortable and safe.
In the midst of all this, I was visiting with the new long term 24/7 client when she asked me if I had heard what happened to our caregiver, Nikki, whose shift started at 8a that morning.  I had not, and was a little nervous as she had a very serious look on her face.  But she proceeded to tell me that Nikki had hit a deer on her way to their house this morning and had totaled her car!  As a tear formed in her eye, she finished by saying, "but she made it here on time!"  She was so amazed (as I was too!) that Nikki had the fortitude to deal with the accident and keep her commitment to be with our client at her appointed time.
A couple weeks ago I called Nikki at 6a to try to cover an open shift at 7a.  She told me she was not sure she could do it since her usual babysitter (her mom) was not available that morning.  She called me back in five minutes and said she had arranged to have her father come up from Wayland to sit for her telling me "he has to be up here anyway because he has a chemo treatment at noon today!"  Whoa, is this gal focused or what?!  Naturally, I refused to have her go to those lengths to cover a shift for us, but you get an idea of who Nikki is.
I am happy to acknowledge Nikki Kadrovach as our Caregiver of the Month for November, 2013.  She exemplifies the selflessness that sets our caregivers apart from all the other agencies in west Michigan.  In this month that is dominated by the Thanksgiving Holiday, it is apropos to salute Nikki's efforts and say a very big THANK YOU to her for her dedication.  We are truly blessed to be associated with her!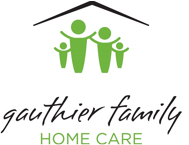 Latest posts by Gauthier Family Home Care
(see all)