Caregivers in Hudsonville, MI: Home Care
As your elderly parent ages, it can be challenging to decide the best way to take care of them. There may be health care needs or just help required with the tasks of day to day living. The type of help they need with will determine the best type of care to choose.
How to choose care for your elderly parent
It is very helpful to get an assessment of your elderly loved one's health to better determine exactly what their help needs are. Does your family member have dementia or Alzheimer's? These can cause behavioral changes which would require someone to be supervising him or her most of the day and night. A home care provider can be arranged for either daytime or night time care or both.
Have a family meeting to discuss whether home care should be made available to your loved one in their own home or in your home. Other family members like siblings may have good ideas of how to help with arranging care.
Elderly home care has a variety of services available to help your loved one, so choosing the thing he or she needs help with is not too difficult. Here are some of the services that will help give your loved one the best possible care:
Companionship – provides company and personal support including someone to talk to, someone to play games with or go places with.
Cleaning – to keep the home clean and respectable including light housekeeping.
Safety – keeps an eye open for safety hazards as well as making sure your loved one doesn't accidentally leave the stove on, etc.
Personal care and hygiene – this includes bathing or showering assistance, help to get dressed and fix hair etc. so your elderly loved one always feels clean and well-dressed. This increases their confidence in having visitors or going out to socialize.
Medication reminders and transportation to doctor visits – these of course are very important for the elderly person who is taking medicine for illnesses and ailments.
Meal preparation and planning – it is just as important for the elderly senior to eat healthy meals every day as it is for anyone else. They can't always fix a balanced meal depending on their physical health. Having a caregiver to help them in the kitchen and clean up after is a big plus towards good health.
Home health care – sometimes your senior loved one may need medical care at home. In this case, they could have a nurse come in for a while until they have recovered.
If you or someone you know needs help with home care in Hudsonville, MI contact the caregivers at Gauthier Family Home Care. We provide quality and affordable home care for many disabled and elderly loved ones in our community. Call us at (616) 658-2300 for more information.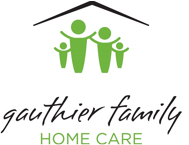 Latest posts by Gauthier Family Home Care
(see all)