Clever Ways to Boost the Amount of Produce Your Mom Eats
It's National Fruit and Vegetables Month, and that makes it a good time to look at your mom's eating habits. Current recommendations for fruit and vegetable are 1 to 2 cups of fruit and 1 to 3 cups of vegetables.  
Those who are active should aim for the higher end of that range. While that is the current recommendation, many adults fall short. According to the CDC, 12 percent of adults consume the right amount of fruit. Only 9 percent are eating enough vegetables. How well does your mom do?
Fruit and vegetables are important at the prevention of certain health conditions. They contain the antioxidants that help the immune system. Leafy greens, berries, citrus fruit, and cruciferous vegetables are all forms of produce your mom needs to consume every day. How do you get her to eat more?
Hide Them in Foods She Loves
One of the easiest ways to get her to eat more is by hiding fruit and vegetables in other items. If your mom loves a morning smoothie, consider tossing in some baby spinach with fruit that has a strong flavor like bananas and blueberries.
Make ice cream with avocado to cut the amount of cream that's used. Add fruit like raspberries, blueberries, and strawberries to mask the avocado's flavor if your mom isn't a big fan.
Look online for the brownie recipe that uses pureed baby spinach and frozen blueberries. Look for a recipe that uses dark chocolate chips to help add richness. She can have the brownie she's craving, but there are fruit and vegetables hidden within.
Serve a Range of Flavors in Ready-to-Eat Salads 
Add raspberries, blackberries, and blueberries to a tossed salad that contains a mix of greens. Top it with a vinaigrette that's made with fresh-squeezed orange juice. Add some fresh mozzarella and grilled chicken or shrimp to add protein.
Keep Single Bite Snacks on Hand 
Your mom may be more likely to eat her vegetables if you keep quick snacks on hand. Baked spring rolls are finger food that you can prepare in large batches and store in the freezer for quick snacks. You can also do miniature quiches, small vegetable turnovers, and vegetables with a dip like homemade ranch or hummus.
A popular elderly care service is meal preparation. If you have concerns that your mom isn't eating enough produce, allow a caregiver to help you. The caregiver will find ways to incorporate vegetables and fruit into the drinks, snacks, and meals your mom enjoys each day. Arrange elderly care services by making a call. 
If you or someone you know needs help with Elderly Care in Comstock Park, MI, contact Gauthier Family Home Care. We provide quality and affordable home care services in our community. Call us at (616) 258-2300 for more information. 
Sources: 
https://www.choosemyplate.gov/eathealthy/vegetables  
https://www.choosemyplate.gov/eathealthy/fruits  
https://www.cdc.gov/nutrition/downloads/fruits-vegetables/2018/2018-fruit-vegetable-report-508.pdf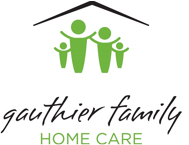 Latest posts by Gauthier Family Home Care
(see all)