Five Reasons Your Senior Wants to Stay in Her Own Home
Understanding why your senior family member is so insistent about staying in her own home can help you to determine what types of assistance she needs and how you can implement the right tools for her. It's not easy to convince your elderly family member to do something that she doesn't want to do, so coming to a compromise, like hiring caregivers, can go a long way toward ensuring that both of you are able to feel comfortable with the choices available to her.
Her Own Home Is Familiar to Her
Even if your senior hasn't lived in her home for multiple decades, her home is still familiar to her. All of her belongings are there, and she is comfortable there. This simple fact is way more important than many family members realize and it's something to keep in mind as your senior's health continues to change.
She Wants to Be as Independent as Possible
Independence is another big factor that can lead your senior to want to remain in her own home. Wanting to maintain independence can sometimes lead your senior to refusing to have help, though. It's important for everyone involved to understand that there is no reduction in your senior's independence involved in her accepting help from others. Senior care at home can help your senior without that help reducing her independence at all.
She Wants to Be Near Friends and Family Members
If family members and friends still live near your senior, that can offer a lot of motivation for her to stay put as well. This is a really important factor to remember, especially if your senior is able to have plenty of visitors. Along with other solutions, like having elder care providers stopping by periodically to help out, your senior can have the socialization that she needs.
Her Identity Is Wrapped Up in Living in That Home
For so many aging adults, their home represents a lot about their personality and identity. Your senior may have been a homeowner for a long time and leaving that situation can feel like too big a change. Helping your elderly family member to stay at home safely can do a lot to preserve that identity for her.
She's Not Sure What the Future Might Bring
So much about the future is never predictable, of course. In terms of your aging family member's health, depending on the existing health issues she's facing she may be concerned about what will happen next. Senior care at home can do a lot to ensure that your senior is safe and that as she ages and her health changes there is still assistance there for her supporting her.
Finding the right balance in help for your elderly family member is an important part of keeping her happy and safe in her home. If the time ever does come when she needs to leave her home, you'll both know that you've done all that you can to ensure she can extend her time in her home as much as possible.
If you or someone you know needs help with

Senior Care in Grand Rapids,

 MI, contact Gauthier Family Home Care. We provide quality and affordable home care services in our community. Call us at (616) 258-2300 for more information.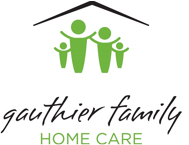 Latest posts by Gauthier Family Home Care
(see all)