Have You Read These Books for Alzheimer's Caregivers?
Part of being an Alzheimer's caregiver is learning as much about the role and your responsibilities as possible. One way to learn more about the experience of being a caregiver to an older adult with Alzheimer's disease is to read books written by and for Alzheimer's caregivers. There are a multitude of books on the market. You can find them through online retailers, in brick and mortar bookstores, and through your local library. Below are some books Alzheimer's caregivers may find helpful.
The 36 Hour Day by Nancy L. Mace and Peter V. Rabins
Many people consider this book essential for families of people with Alzheimer's disease or dementia. It is a guide that offers practical tips for being a caregiver. It gives readers advice on how to make the lives of their elderly loved ones better as well as several other aspects of life with the disease.
Boundless Grace: Devotions from a Caregiver's Heart by Lois Carter
This inspirational book offers a spiritual look at how faith impacts caregiving. It gives reader at how dementia affects people in a variety of ways. It also encourages them to look for the joy in being a caregiver.
Creating Moments of Joy Along the Alzheimer's Journey by Jolene Brackey
Brackey focuses on how making people with Alzheimer's disease smile can improve their lives. She suggests that even though the older adult won't remember the specifics of the moment, they will remember the feelings.
Surviving Alzheimer's: Practical Tips and Soul-Saving Wisdom for Caregivers by Paula Spencer Scott
Scott acknowledges that being a caregiver to someone with Alzheimer's is difficult and can lead to the caregiver sacrificing their own well-being. It teaches them how to be a caregiver without doing themselves harm. The book includes stories from real families as well as advice from dementia-care experts.
Inside the Dementia Experience: A Daughter's Memoir by Martha Stettinius
Told from the perspective of a woman who was a caregiver to her mother for eight years, this book addresses both the challenges of the role as well as a look at what it's really like to be an Alzheimer's caregiver.
Activities to Do with Your Parent Who Has Alzheimer's Dementia by Judith A. Levy, EdM, OTR
Figuring out things to do with a senior suffering from dementia can be difficult. Caregivers don't want them to be bored but finding activities that work with their abilities is a challenge. This book offers more than 50 ideas for activities as well as tips for how to do them.
If you or someone you know needs help with a Caregiver in Hudsonville, MI, contact Gauthier Family Home Care. We provide quality and affordable homecare services in our community. Call us at (616) 258-2300 for more information.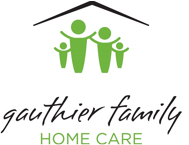 Latest posts by Gauthier Family Home Care
(see all)