Office Updates:  Announcing Promotions for April and Tracy!
I am very pleased, and very proud to announce that April Wells has been promoted to Executive Vice President of Operations and Tracy Payne has been promoted to Vice President of Client Satisfaction.  These two ladies have been by my side for several years, helping me to keep our clients happy, healthy and independent in their own living quarters.  They have earned this recognition!
April was my first administrative hire and an absolute Godsend at the time.  While I was interviewing her, in July of 2013, I noticed on her resume that she had HR background for a large law firm, AND, scheduling experience for a large group of doctors.  That scheduling experience was of particular interest to me since I was running our agency by myself and the scheduling part of the business was making me crazy!  Between the 24/7 nature of our business, managing 25 clients' schedules along with 50 caregivers at the time, I was losing my mind.  April also had caregiving experience at a local nursing home, so she completely understood our business model.
She agreed to come on board as a caregiver and part time scheduler and immediately proved to me that she is the consummate professional; focused on her work, dedicated to client satisfaction, and a committed team player.  I tell folks all the time that April "gave me my life back" when she joined our agency.  I had gone two and a half years without a day off, and three months after I hired April, Marion and I finally took a week off with our daughter.  We went to a beach in Jamaica.  It was wonderful!
As XVP of Operations, April is now in charge of all the daily functions of our business.  She oversees all employee onboarding, manages our staff, and keeps tabs on scheduling and case management challenges.  She is a joy to watch, seamlessly switching hats and multitasking her way through each day.  She has a gift for working with folks and creating a dynamic team environment.  I am so blessed to have her on my team.
Tracy also started with us in 2013, a month before April did, as a caregiver.  She had worked at Hope Network and I could tell immediately in our interview that she was a no-nonsense person, and very mature for her age.  She also grew up watching, and eventually helping, her grandmother run an AFC in Muskegon.  Caregiving was in her blood.
We had a bedbound client that required full CNA skillsets and Tracy had those.  I assigned her to this challenging client and she proved to be the ideal caregiver.  This will sound funny, but, I never heard from Tracy.  Any scheduler will tell you, that is a wonderful thing.  It meant that Tracy never called in sick, never had a car problem, never created drama. She also never missed a shift!  And the client loved her.  They became very close indeed and Tracy became the go-to lead trainer for any new staff member that was assigned to this client.
In a conversation with Tracy in late 2014 I learned she was nearing completion of her Masters of Health Administration.  When I asked her what her plans were (fearing she was going to move on from working with our agency), she said she wanted to concentrate on patient satisfaction in the hospital environment.  I asked her if she would consider doing same in the home care setting and she said yes!
Some things are meant to be.  Tracy, as our VP of Client Satisfaction, is our lead Case Manager.  She juggles the needs of our many clients, coordinates care with the schedulers, and takes calls from the adult children of our clients.  There's always something, and Tracy handles it all with great diplomacy.  She has her hands full these days with as many clients as we have, but that is not all she does.  She is our IT person (yes, she's a computer geek!), she handles client insurance claims, does payroll and client invoicing, and manages our web presence.  Love that girl to pieces!
Please join me in congratulating April and Tracy on this exciting advancement in each of their career paths!
Dan
If you or someone you know needs help with home care in Grand Rapids, MI, contact Gauthier Family Home Care. We provide quality and affordable home care services in our community. Call us at (616) 258-2300 for more information.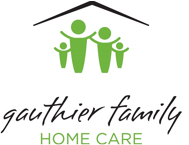 Latest posts by Gauthier Family Home Care
(see all)