Honoring Those Who Served this Memorial Day
This year Memorial Day is falling on the last day of the month of May. This American holiday is a day set aside to honor the men and women who were in the military and have passed on. It was first called Decoration Day, and began in the years following the Civil War. It became an official federal holiday in 1971. Many families will visit the cemeteries that hold the remains of loved military family that have died while other families use the holiday as the kick-off for summer and have picnics and barbecues with their loved ones that are still here.
If your parent would like to spend some time on Memorial Day honoring those that passed on, as her caregiver, you can plan a few simple ways for her to honor her loved ones. She may have lost a spouse, a sibling, a parent, or even a child and it can be important for her to take some time to remember those that are no longer here with her. If your family is one that also does barbecues and big family get together, ask your aging parent if she'd perhaps like to do something a little quieter before the family arrives or before you head off to a park to gather together. Here are some suggestions for ways you can help your parent remember those who are gone this Memorial Day.
Visit the graves. If your parent has a family member buried in a military cemetery, Memorial Day is a good day to go visit the graves of those loved ones and perhaps decorate them. Help her pick up some flowers or other sentimental item to place graveside and then give her the ability to spend as much time as she needs at each graveside.
Have a moment of remembrance. You and your parent can do this anywhere but finding a nice quiet place may make it more meaningful. Each Memorial Day at 3pm is the "National Moment of Remembrance," so plan for your time together in a park or even at the cemetery. Your parent may want to have silence or may feel she wants to share a memory or two with you.
Share her stories. Whether it's simply talking to family members at the family Memorial Day celebration or writing it down, have your parent share her memories of those she knew that have passed on. Sharing their stories is a great way to honor those that have sacrificed so much for our nation.
Visit a local memorial. Many cities have memorials made for those who have died in battle, or are missing in action. Even if your parent doesn't know any of the names on the memorial, she might appreciate traveling to one with her caregiver to remember others who have also given their lives for our country.
Your parent will appreciate the time and attention you give her as she uses this day to keep those memories alive and there for future generations.
If you or someone you know needs a Caregiver in Comstock Park, MI, contact Gauthier Family Home Care. We provide quality and affordable home care services in our community. Call us at (616) 258-2300 for more information.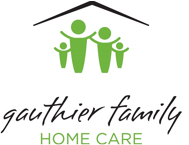 Latest posts by Gauthier Family Home Care
(see all)