How Do You Make Sure Your Dad's Care Plan Covers Everything
Every older adult should have a care plan in place. While your dad may be independent living alone, anything can happen. He needs to be prepared for these changes if they arise.
Have You Discussed Where He Wants to Live?
If you haven't discussed your dad's desire to age at home or downsize, now is the time. He may be ready for a smaller, one-level home closer to his grandchildren. He may prefer the neighborhood he's lived in for years.
Talk about your dad's wishes when it comes to aging. If he wants to stay in his current home, address the improvements that would make it safer. Grab bars in the bathroom help prevent falls. Voice-activated lights can help him safely move around when he gets up in the middle of the night and can't find the light switch.
If he wants to age at home, it's also important to talk about medical alert systems with safety features like fall detection and GPS tracking.
Ask About His Health
Does your dad have any chronic health conditions? If he does, you need to know if he takes medications to keep them from worsening. Are there things he's supposed to do each day, such as eating certain foods or avoiding alcohol?
If he's on a restrictive diet, does your dad manage his meals well, or does he struggle to find foods he can eat? Low-sugar, low-fat, and low-sodium diets are typical with older adults, but they can be tricky to manage if your dad struggles to read the fine print on labels or has limited cooking skills.
It's Time to Talk About Advance Directives
An advance directive is a legal form that explains what medical care your dad would and wouldn't want in different situations. It covers things like feeding tubes and ventilators. It can go over his religious beliefs, which may impact whether or not he wants doctors to use an experimental treatment or surgery.
An advance directive also helps you understand what your dad would want if he were in an accident, suffered a stroke, or had another debilitating illness that prevented him from speaking for himself. If he also has designated a medical power of attorney, which he should, it helps that agent understand the best treatment courses.
Know His Ability to Complete Daily Activities
Activities of daily living are things your dad must be able to do to remain healthy and safe. It includes things like chew and swallow foods, go to the bathroom, and walk around.
Instrumental activities of daily living are similar. They include tasks like paying bills, cooking meals, and remembering to take medications. If your dad struggles with several things on an ADL and IADL checklist, he needs someone to help him.
Now that you have a better understanding of the care your dad needs and his wishes in terms of aging at home, call a home care agency. Make arrangements to ensure your dad's care plan is met and change services as his needs change. A home care specialist can go over prices and assistance needs during this conversation.
If you or someone you know needs help with Home Care in Jenison, MI, contact Gauthier Family Home Care. We provide quality and affordable home care services in our community. Call us at (616) 258-2300 for more information.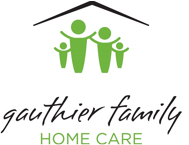 Latest posts by Gauthier Family Home Care
(see all)