Tips to Encourage Daily Activity in the Elderly
As the weather starts to warm up and get sunnier, it is important that people (especially senior citizens) are being more active. It would be great if your elderly loved one could get outside for at least a little bit of time each day. If not, say if the weather isn't so great, you and home care providers that offer companion care at home can keep your elderly loved one busy inside their home or you could walk through a store with them. Here are some more tips to encourage daily activity in the elderly. 
Socializing Can Be Enough
Does your elderly loved one socialize? If they don't go over to their neighbors, have family over, or go to visit their friends, you may want to start encouraging them to do more socializing. Not only do studies show that senior citizens who socialize often have a lower risk of health issues, but it can just help to improve your elderly loved one's mental and physical health overall, too. For example, if your elderly loved one socializes with you or their elder care provider that is offering companion care at home while walking through the park, they are getting the social aspect of this and the physical activity part of it, too. 
Ways to Keep Active
As noted above, there are different ways that senior citizens can keep active throughout the day. Some of the best options for your elderly loved one might be:
Dancing to exercise videos at home
Going to the local park with their dog
Walking through their neighborhood
Going on a walk or jog with you or their elder care providers 
Doing dance or exercise moves while watching television or when cleaning
These are some of the best ways that your elderly loved one can increase the amount of daily activity they get. If they aren't currently doing these activities or others that get them moving much, you should help them create a movement plan. This can include any number of activities, but make sure it includes at least one that is physically active each day. 
Gaming Can Be Fun and Active
You probably already know about the Nintendo Wii and many of the virtual reality game systems out these days. However, your elderly loved one may not be aware of them. If your elderly loved one is a gamer at heart, even if it is just puzzles they enjoy, you may want to get them one of these gaming systems. When they are playing the Wii or the virtual reality games, they will be moving around quite a bit more than they are used to. This can be a great workout and an excellent source for their physical activity to increase. 
Conclusion
These are some of the best tips to encourage daily activity in senior citizens. If your elderly loved one hasn't been moving around much recently, you should talk to them and make a plan to increase their daily physical activity. 
If you or someone you know needs help with
Companion Care in Ada, MI
, contact 
Gauthier Family Home Care.
 We provide quality and affordable home care services in our community. 
Call us at (616) 258-2300 for more information.
Sources
https://www.nia.nih.gov/health/exercise-physical-activity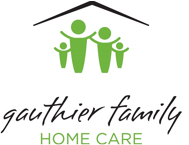 Latest posts by Gauthier Family Home Care
(see all)