What Are the Germiest Areas in the Home?
Cleaning the home is important to remove allergens, bacteria, and viruses. Many people think the bathroom is the germiest room in the home, but it's actually the kitchen. The kitchen isn't the only room in need of deep cleaning, however. These three rooms need your attention to help reduce the chances of allergies, viruses, and bacterial infections. 
 
The Bathroom
The bathroom is a germ-filled room. Flushing the toilet without first closing the seat sends up aerosolized fecal matter. That fine spray ends up on faucet handles, surfaces, light switches, and even toothbrushes if they're stored in the open. 
 
The toilet bowl, handles, and surfaces need to be disinfected each day. The same goes for faucet handles, light switches, and other hard surfaces. 
 
After a shower, rinse the walls and floor to remove soapy residue. Once a week, scrub the tub. Wash a fabric shower curtain with the towels. Wipe down vinyl or plastic shower curtains with an antibacterial cleaning product each week. 
 
The Bedroom 
 
Bedrooms aren't as germ-filled as a kitchen and bathroom, but the sheets on a bed do get sweaty and that increases bacterial counts. Open windows to let light in every day. Wipe down surfaces to remove dust and vacuum carpets each week. 
 
Wash the sheets each week and take the comforter and blankets outside and shake it out once a week. If possible, let it hang in the sun for a few weeks. If it's machine washable, do that monthly. 
 
Invest in washable pillow covers to extend the life of your pillows. If you don't have pillow covers, try to wash your pillows monthly to remove sweat and saliva. 
 
Finally, keep the mattress protected with a cover and wash that cover each month. While it's in the laundry, sprinkle baking soda over the mattress and let it sit for a couple of hours. Vacuum it before you replace the mattress protector. 
 
The Kitchen 
 
The kitchen is the germiest room in the house. It's where bacteria from foods multiply. Wash all cutting boards, utensils, and bowls in soapy water. If possible, put them in the dishwasher. 
 
Once washed, spray cutting boards with a mixture of bleach and water (1 tablespoon of bleach to 1 gallon of boiled, cooled water) to kill any remaining germs. Let the cutting board air dry with the bleach solution. 
 
Wipe down all surfaces, knobs, and handles after cooking a meal. This includes handles on cupboards, appliances, and faucets. 
 
Wash pet bowls each day to remove bacteria from pet foods. Mop the floors once a week. Do not use the same dishtowel all week. Change it each day. 
 
Short on time to keep your mom and dad's home cleaned? Hire home care aides to help them with housekeeping and laundry. Professional caregivers can clean and sanitize surfaces, wash the dishes, and put things away where they go. Call a home care agency to arrange services. 
If you or someone you know needs help with Home Care in Lowell, MI, contact Gauthier Family Home Care. We provide quality and affordable home care services in our community. Call us at (616) 258-2300 for more information.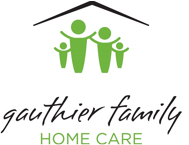 Latest posts by Gauthier Family Home Care
(see all)