What Happens After a Colorectal Cancer Diagnosis?
Over 153,000 people will be diagnosed with colorectal cancer in 2023. For this reason, the Colorectal Cancer Alliance celebrates Dress In Blue Day every year in March. It's a day for people to wear blue and support the many people who have been diagnosed with or beaten colorectal cancer thanks to advancing research.
When your dad has colorectal cancer, start attending his appointments. The treatment options depend on the stage he's at. Stages 0 and 1 are usually treated through surgical removal of the cancerous mass.
From stage 2 onward, your dad will have surgery and treatments that usually include chemotherapy and radiation. If it has reached stage 4, additional treatments that include radiofrequency ablation or stereotactic body radiation therapy may also be advised. Depending on the course of treatment, post-hospital care is recommended.
What Can Nurses Do to Help?
After his surgery, the doctor may want your dad to stay in the hospital for a few days, but if he has a solid home health care plan in place, he might be allowed to go home earlier. He'll probably have a catheter in place for a day or two to allow the incisions time to start healing and to allow for inflammation.
If he does have a catheter, his nurse can help with it. When it's time to remove it, a home health care nurse can do that for him without him having to return to the hospital.
His incision may need to be checked that it's healing properly. If the bandages need changing, his nurse can do that while cleaning the incisions at the same time. This can help avoid infection and take some of the stress you might experience having to care for the wounds on your own.
IV fluids and medications are other things a nurse can help your dad with. If he has pain medications, needs IV fluids or nutrients, or has antibiotics to take, his nurse can set up the IV line at home rather than making him go to the hospital for those treatments.
Your dad's nurse can also monitor his temperature, pulse, and blood pressure as they can indicate something is wrong. It's helpful to report these to the medical team regularly.
Arrange Post-Hospital Care
If your dad is having surgery due to a colorectal cancer diagnosis, make sure he has the support he needs at home. Post-hospital care is important to ensure he has someone to help with incision care, medication administration, and health monitoring.
Talk to a post-hospital care specialist about your dad's treatment plan and the care he's going to need when he's back home. He'll have the skilled care he needs to prevent going back to the hospital, and you will be able to relax that he's getting the best possible care during his recovery.
If you or someone you know needs help with Post Hospital Care in Ada,
 MI
, contact 
Gauthier Family Home Care.
 We provide quality and affordable home care services in our community. 
Call us at (616) 258-2300 for more information.
Sources:
https://www.ccalliance.org/about/awareness-month/dress-in-blue-day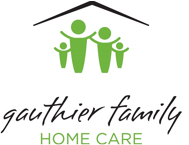 Latest posts by Gauthier Family Home Care
(see all)