Assistive Devices for Elderly Needing Mobility Help
If you're the caregiver of an aging parent who has started struggling with getting around either due to weakness, balance issues or injury, you might be looking for solutions to help him continue to live at home. Hiring an elder care provider to help with chores around the home that require the ability to maneuver and get around can be a great help, but how do you help your parent safely traverse from here to there when he's alone? Luckily, there are quite a few options out there, depending on how much extra assistance your parent needs.
Canes
Canes are helpful for the senior who doesn't need a lot of help getting around, just a little extra. They can help those with balance issues or perhaps weakness on one side of the body. While your aging parent may be able to simply lean on or hold onto his elder care provider for support when he's with him, he might need a cane for when he's alone. There are different styles of canes that come in different heights, and your parent should try them out before purchasing one. You or a family member might see a stylish cane you'd like to purchase, but much like shoes, your parent needs to find one that fits him comfortably and can withhold at least 25% of his weight.
Walkers / Rollators
If a cane doesn't provide enough support or if your parent has overall weakness in both of his legs, a walker may be his next option if he still wants to be able to physically walk around on his own. Using a walker requires enough arm strength, so again, try it out before you buy it. You can find walkers that have standard four legs that need to be lifted with each step, or rollators that are on wheels and can be pushed along for support. It may contain a seat for resting and/or a basket for carrying items around.
Power Scooters
If your aging parent doesn't have the physical strength to support himself, a power scooter might provide him with the ability to independently get around when he's not in the home. There are scooters that are created solely for indoor use, outdoor use, or a mix of both. They require the ability to steer and manage the controls so if your parent has arthritis, it might be difficult for him to use one. Power scooters can be quite expensive, and you will need to determine how you will get it from one place to another.
Wheelchairs
A manual wheelchair is one that is pushed by another person. Often the lowest maintenance and easiest to transport, a manual wheelchair is great to help your parent if someone is bringing him somewhere, such as his elder care provider bringing him to the grocery store or to an appointment. Your parent can also use it around the home if he has enough arm strength to turn the wheels. Another option is an electric wheelchair, which will allow your parent to use manual controls to move his wheelchair, instead of physical strength.
Getting around and having that independence can be an important part of having the quality of life your parent wishes to have. Look at which option is best for him now and then continue to monitor its effectiveness as your parent ages. It's possible that what works this week, may not work for him next year.
If you or someone you know needs help with Elder Care in Grand Rapids, MI, contact Gauthier Family Home Care. We provide quality and affordable home care services in our community. Call us at (616) 258-2300 for more information.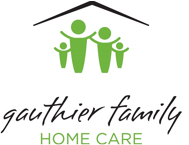 Latest posts by Gauthier Family Home Care
(see all)