Easy Ways Seniors Aging in Place Can Stop Drafts
Even though most seniors greatly prefer to stay in their homes as they get older if seniors have been living in their homes for many years those homes could pose some problems for seniors. Older homes are particularly prone to drafts. In the winter living in a drafty home can contribute to seniors getting sick or being uncomfortable. It can also cause seniors to turn the thermostat up and raise their energy costs trying to get warm. But there are some things seniors can do to stop drafts even if they can't replace old windows like:
Seal The Windows
The most direct way that seniors can get rid of drafts is to make sure that any leaking windows or old window are sealed with plastic insulation. First seniors or their family members should put weatherstripping tape around all the windows and in the door seals to make sure that the house is as airtight as possible. 
Then seniors or their family members can  use plastic window insulation to cover the windows and seal them with heat from a hair dryer. Window insulation kits are a cheap and effective way to seal windows against drafts. In-home care providers can also help seniors protect their windows from drafts when seniors have in-home care. 
Put Up Thermal Curtains
Thermal curtains or insulated blackout curtains can improve the comfort in any room. During the winter having thermal curtains on the windows can actually raise the temperature in the room because they keep the heat in and the cold out. Thermal curtains are not any more expensive than regular curtains and seniors can find them in many different patterns and colors to match their décor. In-home care providers can also help your senior loved one hang curtains. 
Get The Insulation Checked 
Older homes may need to have their insulation redone. If the home has never had the insulation redone or it didn't have a lot of insulation to begin with it's possible the house needs more insulation. You will need to have a professional check the level of insulation in the home but in many cases professionals can spray insulation into the walls without having to do anything except open a tiny hole in the wall where they can spray the insulation. It's a good solution to the problem of drafts in the home. 
Redirect The Heat 
Seniors who have older register heat systems can redirect the heat to make sure that the heat is going where they need it to go. With simple plastic appliances that screw over the heat register and direct the airflow seniors can change where the air coming from the furnace is going so that they can be sure all the hot air is going where it should go instead of being wasted and blowing around the house randomly. Seniors should also close off any rooms they are not using and don't want to heat so that all of the heat is going to where your senior loved one actually spends time.
If you or someone you know needs help with In-Home Care in Comstock Park, MI, contact Gauthier Family Home Care. We provide quality and affordable home care services in our community. Call us at (616) 258-2300 for more information.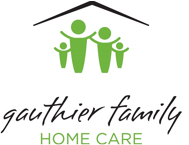 Latest posts by Gauthier Family Home Care
(see all)