How Can Cleaning and Organizing Help with Fall Prevention for Senior Citizens
Did you know that many elderly people fall in their home? It may seem like most of the falls that happen with senior citizens happen outside, maybe even on the ice. However, the majority of falls for the elderly happen in their bathroom, kitchen, entryway, or on their porch. If you are caring for your elderly loved one, there are certain ways that you can help to prevent falls for them. One of the best tips is to focus on cleaning and organizing their home.
Start Downsizing
When thinking about downsizing, you and your elderly loved one might think this means they have to move out of their home. However, that doesn't have to be what this means. In fact, you can work with your elderly loved one to downsize their belongings. The less stuff they have in their house, the less clutter there will be throughout their home. With less clutter, there are fewer chances for your elderly loved one to trip on things and fall. Once you have worked with your elderly loved one to downsize their belongings, the in-home care providers can help them to keep things picked up.
Getting and Staying Organized
Being organized is a skill. If your elderly loved one isn't great at this, it will take time for them to develop better organizing habits. You and their home care providers can help with this. There are many ways that you can help your elderly loved one to get and stay organized including:
Making a get rid of box (if things come up they want to get rid of put it in there and get rid of it once a week or once a month)
Tidy up at the end of every day (should take about 15 minutes if they stay on top of it)
Have a place for everything
With these tips, hopefully, your elderly loved one can keep their home organized. The more organized it is, the less likely that things will get in their way, which can help to reduce the risk of falls.
Wiping Up Messes
Does your elderly loved one spill things often? What about when they get out of the shower? Is there usually water on the floor? If either of these things are happening, the water or other things that get dropped on the floor can increase the chances of your elderly loved one falling in their home. If your elderly loved one isn't good at keeping the floor dry or cleaning up the messes that are made or they aren't able to, you or an in-home care provider may be able to do this for them.
Conclusion
These are some of the ways that cleaning and organizing can help with fall prevention for senior citizens. If these habits aren't already implemented, you and the senior care providers can work with your elderly loved one to build on them.
If you or someone you know needs help with In-Home Care East Grand Rapids, MI, contact Gauthier Family Home Care. We provide quality and affordable home care services in our community. Call us at (616) 258-2300 for more information.
Source
https://www.ncoa.org/news/resources-for-reporters/get-the-facts/falls-prevention-facts/
https://www.containerstore.com/organization-projects/general/tip/top-12-organization-tips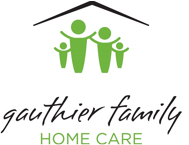 Latest posts by Gauthier Family Home Care
(see all)