Meaningful Ways to Stimulate Your Parent's Memories During a Family Reunion
A family reunion or other gatherings are a wonderful time to reminisce about past times with your loved ones, and tell stories about your memories. If you are a family caregiver for an aging adult who is struggling with memory loss, such as related to Alzheimer's disease, you may worry that they won't be able to participate. It is important to remember that even if your parent has trouble recalling memories, you can still stimulate their mind and foster improved memory retention and recall. Family reunions or gatherings are the perfect time to help boost memory, and encourage them to experience improved mental/emotional health and well-being through sharing these memories.
Try some of these meaningful ways to stimulate your parents memories during a family reunion or gathering:
Turn it into a fun decoration. Pull out old pictures of family members and make copies of them. Post large versions of these pictures on a poster board or banner, then ask everybody to bring a current picture of themselves, or provide an instant development style camera to take these pictures. Add everybody's name to create a fun centerpiece, that can also serve as a reference point.
Encourage your family members to bring a family heirloom or other meaningful item for a family show and tell. Have everyone show the item and why they brought it and tell stories about the other family members who gave them that item, or once owned it.
Have a movie night by popping popcorn and serving other refreshments while watching family home movies. If it seems your parents are confused about what's happening, or are not remembering the events, don't hesitate to talk about what you're watching.
Prepare family recipes to serve during the event. Not only is this a meaningful way to connect with all the members of the family, but it can also stimulate your parents memory by reminding them of other times when that particular food was served.
If you have been looking for a way to enhance your senior's quality of life, address their needs and challenges, and support your own well-being during your caregiver journey, home care may be the ideal solution. An in-home senior care services provider can be with your aging parent on the customized schedule that is right for them and for you. Highly personalized services can fill care gaps, support greater activity and independence, and encourage your aging parent to experience as much from life as possible as they age in place. As a family caregiver, knowing your aging parent has access to home care can give you greater confidence that they will be able to live a higher quality of life, and stay safer and healthier, while still giving you the time you need to focus on other elements of your life, including caring for yourself. This reduces stress, improves your relationship with your parent, and ensures the best care and support at all times.
If you or someone you know needs help with home care in Grand Rapids, MI, contact Gauthier Family Home Care. We provide quality and affordable home care services in our community. Call us at (616) 258-2300 for more information.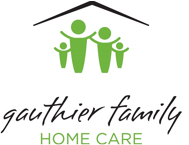 Latest posts by Gauthier Family Home Care
(see all)