Post-Hospital Care Helps Senior Recover Safely At Home
If your senior loved one has been in the hospital because they had a fall, heart attack, stroke, or a surgery and they are being released from the hospital, having post-hospital care to help them safely recover at home is a great option. Seniors will be more comfortable and may recover faster if they can recover in the comfort and privacy of their home, rather than having to spend weeks or even months in a rehab facility.
What is Post-Hospital Care?
There are some special things that seniors will need in order to recover safely at home. Those who have been in the hospital because of a heart attack, stroke, or fall have a much higher risk of having another emergency medical event after that initial event. Post-hospital care at home is essential to make sure that seniors get the care that they need and are monitored all the time during their recovery. That way, if any help is needed, it will be available to them around the clock.
Nutritious Meals
Eating nutritious meals and making sure that they are eating enough is very important for seniors during recovery. Seniors who have post-hospital care will have someone there who can cook them nutritious meals and make sure that they eat. A care provider that is there offering post-hospital care can also make sure that your senior parent is staying hydrated and getting enough water to stay healthy during their recovery.
House Keeping
While your senior parent is recovering they will need to be in a clean and healthy environment. A home care provider can do household chores like the dishes, feeding pets, cleaning the bathroom, vacuuming and dusting, and doing the laundry to make sure that your senior access has clean and sanitary clothing and linens. Running errands, shopping, and other household tasks that are needed to keep the household running smoothly can also be included as part of post-hospital care for seniors.
Transferring
When seniors are recovering they may have trouble getting in and out of bed, even though they may need to be in bed most of the time. A care giver offering post-hospital care can help seniors safely get from the bed to the couch, and back again, during the day. They can also help seniors get to the bathroom when they need to go or help them get up and start walking if the doctor wants them to start being more active.
Bathing And Dressing
Being clean and well-dressed can impact a senior's state of mind and make them feel better about themselves. And when seniors are feeling good about themselves they are more likely to be successful when they're doing things like physical therapy or occupational therapy. With some help seniors will be able to take regular showers and dress in regular clothes each day to start getting back a sense of normalcy and routine. That can improve your senior parent's mental state and make them more likely to recover quickly.
If you or someone you know needs help with Post-Hospital Care in Lowell,
 MI
, contact 
Gauthier Family Home Care.
 We provide quality and affordable home care services in our community. 
Call us at (616) 258-2300 for more information.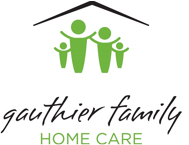 Latest posts by Gauthier Family Home Care
(see all)