Simplify Your Mom's Meal Prep with Senior Home Care
When you're the family caregiver in charge of all of your mom's meals, it can seem like a lot of work. It's harder if you also work, have children at home, or have other responsibilities outside of the home. Make meal prep a little less stressful using these tips and hiring a senior home care provider to help out.
Plan a Menu in Advance
At the start of the week, before you go grocery shopping, create a weekly list of meals and snacks. Use those recipes to build your mom's shopping list. By sticking to a meal plan, you save on groceries, and you have a plan in place that allows you to plan your time accordingly.
You can use a meal planning app online or get a corkboard and some push pins and line-up printouts of the recipes you're planning to make. When it's the right time and day, take down the recipe and start gathering supplies.
Marinate and Freeze Meats in the Marinade
After shopping, trim and slice meats to suit your needs. Freeze them in the proper potions with the marinade needed for the recipe. Freezing opens up the meat's fibers and allows the marinade to soak in.
Prep Some Vegetables in Advance
Once you have the groceries in hand, prep some of the vegetables in advance. Items like onions, carrots, and celery can be diced or chopped in advance. Bell peppers, broccoli, cauliflower, cabbage, celery, and green onions can also be prepped in advance if you'll use them in the next couple of days.
Freeze Chopped Herbs in Ice Cube Trays
Chop large qualities of fresh herbs and portion them out into ice cube trays by tablespoon. Fill the tray with salt-free chicken, beef, or vegetable stock and freeze them. When you have a recipe that calls for something like a tablespoon of fresh parsley, you just need to grab an ice cube.
Have Ready to Cook Meals in Freezer Bags or Containers
If your mom has a slow cooker, you can have many meals ready to move to a slow cooker for an easy meal. You could cube beef and toss the cubes in seasoned potato starch or chickpea flour. Add a bag of frozen stew vegetables and the beef cubes to a slow cooker. Add a couple of cups of beef stock and cook that all while you're taking care of household chores.
You can cook batches of dried beans, drain them, and move them to the freezer in bags with chili seasoning, onions, diced tomatoes with chili peppers, and chopped garlic. You can make a quick batch of vegetarian chili.
Hire Senior Home Care Aides to Prepare Meals
Senior home care services take a lot of the pressure off you. Let caregivers help your mom with menu planning, grocery shopping, and meal prep. You can focus on more important things like spending quality time with your mom and children and completing your job duties each week.
If you or someone you know needs help with Senior Home Care in Lowell,
 MI
, contact 
Gauthier Family Home Care.
 We provide quality and affordable home care services in our community. 
Call us at (616) 258-2300 for more information.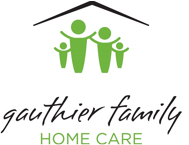 Latest posts by Gauthier Family Home Care
(see all)