Tips For Talking To A Senior Parent About Getting Home Care
November is National Family Caregiver's Month which makes it a fantastic time to start a conversation with your senior parent about senior home care. If your senior parent has been hesitant to consider senior home care it's important to have an ongoing dialog about the benefits of home care. Some seniors prefer to be independent and don't want to admit they need help even though you would feel better if they had help from a senior home care provider. Here are some tips you can use to frame the conversation about hiring a home care provider in a positive way:
Stress The Benefits Of Help With Housework And Chores
One of the best ways to convince your senior loved ones that home care is a benefit for them is to talk up the benefits of not having to do tough household chores. Chances are good that after a lifetime of laundry, floor scrubbing, dusting, vacuuming, cleaning the bathroom, cooking, and other household chores your senior parent is more than ready to hand those jobs off to someone else. They may be depending on your for help with those chores right now, but those are all tasks that a home care provider can help them with.
Remind Your Senior Parent That It's Not A Judgement
When you open a conversation with a senior loved one about home care it's very important to make it feel like a conversation and not a judgement. Don't frame the conversation in a way that makes your senior loved ones feel like you're judging them for not being able to do certain things anymore or that you're judging the house for not being as clean as it should be. Always choose language that supports the positive aspects of home care for seniors and don't make it seem like a punishment or a negative thing.
Show Them That Home Care Isn't As Expensive As They Think
Your senior loved ones may be resistant to the idea of senior home care because they think it's too expensive. But some insurance plans will pay all or part of the cost of home care and the cost is really more affordable than many seniors think it is. You can sit down with them to discuss their financial situation and the cost of care to show them that they really can afford it and the cost is worth it.
Reassure Them It Won't Change Your Relationship
If you're currently providing the bulk of the care that your senior parents need your parents may not want to have a home care provider because they like having you around to help them. And you probably like helping them, but you also probably have to work and take care of your family and other obligations too. Make sure that your senior loved ones know that you will still be around often to help them and spend them time with them even if they have a home care provider helping with the majority of their care.
If you or someone you know needs help with Senior Home Care in East Grand Rapids, MI, contact Gauthier Family Home Care. We provide quality and affordable home care services in our community. Call us at (616) 258-2300 for more information.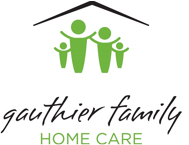 Latest posts by Gauthier Family Home Care
(see all)