Tips to Keep Senior Citizens Comfortable in Their Home
Your elderly loved one has done so much in their life. They deserve to feel comfortable in their elderly years. The problem is that some senior citizens aren't able to take care of themselves fully. They need help. However, that doesn't have to stop your elderly loved one from enjoying their time now that they are in retirement. There are some tips that can help senior citizens to be more comfortable and happy.
Use of Technology
If you are worried about your elderly loved one being alone in their home, due to safety reasons particularly, you can set up technology devices that have cameras and alert systems on them. There are so many different devices that can be used for senior citizens. For example, you can set up an Alexa that allows you to drop in on the camera to see how things are going at your loved one's home. This device also allows your elderly loved one to call you through the device. They can video chat with you or other people in their life which can help with keeping them social, too.
Help from Home Care Providers
Just because your elderly loved one needs assistance, that doesn't mean they can't be comfortable in their home. In fact, you can hire personal care at home providers. The providers are able to help with a range of things including:
Companionship
Helping with household tasks
Getting groceries
Reminding your loved one to take medications
Being there to pick up after your elderly loved one
Preparing and making meals
Grooming and bathing-related tasks
These are just some ways that elderly care providers can assist your elderly loved one. Now that you know there is help available with just about everything your elderly loved one could need, you don't have to worry so much about them being home without you.
Community Involvement
You might also worry about your elderly loved one now that they aren't working. Since they aren't at work, they aren't around as many people. The good news is that most communities have community events and activities for the elderly. For example, there might be a place around where your elderly loved one lives that holds Bingo or card games. You or a personal care at home provider could take them there regularly, so they can visit with people their own age.
Conclusion
Just because your elderly loved one is getting older and needs more help, that doesn't mean they can't live comfortably on their own. The tips noted here today can be a great help in keeping your elderly loved one safe and happy at home. These tips also allow your elderly loved one to keep socializing, as well.
If you or someone you know needs help with Personal Care at Home in Ada, MI, contact Gauthier Family Home Care. We provide quality and affordable home care services in our community. Call us at (616) 258-2300 for more information.
Sources
https://www.nia.nih.gov/health/aging-place-growing-older-home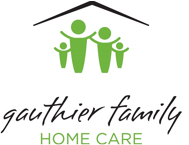 Latest posts by Gauthier Family Home Care
(see all)