Have you ever thought about having caregivers available to help your dad with day-to-day activities? If so, you've thought about home care services. How can home care aides help your dad, and are there any tasks they can't do? Here is what home care is and what it can and cannot do to help your dad.
What Is Home Care?
Home care is a service where a paid caregiver comes to your dad's home to help him with activities of daily living and instrumental activities of daily living. Your dad maintains his independence by doing the things he enjoys and can do on his own, but when there's a task he can't do without help, his caregiver takes over that task.
What Can Caregivers Do?
One of the biggest benefits of home care is that your dad has a caregiver available for conversation and transportation. He has a caregiver to take him to appointments, stores, and area businesses. His caregiver can help him run errands, pick up prescription refills, and shop for groceries.
Caregivers can help your dad with housekeeping chores. They can vacuum carpets, dust shelves and furnishings, wipe down surfaces, and do the laundry. Caregivers can wash dishes, run the dishwasher, put dishes away, and tidy up.
Once a week, a caregiver can change your dad's bed sheets and wash the dirty ones. Clean laundry is ironed, folded, and put away. Caregivers can change towels, wash the others, and put up new towels. Watering plants, ordering groceries, and arranging for grocery and prescription deliveries are also offered.
Home care services also help with personal care. If your dad needs help showering, drying off, and applying moisturizer, he can have the help he needs. Personal care aides can help trim nails, shave facial hair, and dry and style hair. They can help him get dressed in clothes that match the weather forecast.
Are There Things Home Care Aides Can't Do?
There are some things that a home care aide cannot do. If your dad needs someone to inject his insulin, change surgical bandages, or test his blood sugar levels, home care is not the right option. A home care agency could discuss better options for those care needs.
Caregivers are also not there to do work for you. The caregiver is there for your dad only. You can't ask a caregiver to do your laundry and cook a meal for you. If they're scheduled once a week, you can't ask them to stop by extra days that week without talking to the agency to make that change in frequency.
Make a list of questions to ask a home care specialist. You'll get answers to those questions and learn more about prices. Call a home care agency to get started
If you or someone you know needs help with Home Care in Grand Rapids,
 MI
, contact 
Gauthier Family Home Care.
 We provide quality and affordable home care services in our community. 
Call us at (616) 258-2300 for more information.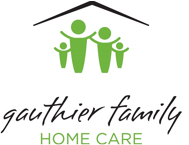 Latest posts by Gauthier Family Home Care
(see all)