5 Thoughts That Could Mean You Should Consider Hiring Help
1. "I'm not qualified."
If your senior parent or loved one has complex medical issues, requires at-home procedures or takes a multitude of medications, you may be feeling overwhelmed and wonder how you can keep up with the level of care that they require and deserve. Home care professionals are specifically trained to care for elderly people and are equipped to handle these sort of things in a clean, safe, and reliable way in the comfort of your senior's own home.
2. "I miss my old life."
Home Care Cascade, MI: 5 Thoughts That Could Mean You Should Consider Hiring Help
If you find yourself feeling down about missing out on things that you used to be able to do, or feeling resentful of friends or other family members because you are caring for your senior at home, it may be time to make a call to your local home care company to see what they can do for you and your senior. Don't miss out on life when you can hire excellent care for your senior and also do the things that you want and deserve to be able to do.
3. "I'm not sure how much longer I can do this."
Are you feeling stressed or overwhelmed? Are you lacking sleep or good nutrition because of the constant care needs of your senior? If you are feeling like you are hanging on by a thread and that you aren't sure just how much longer you can go on being the primary family caregiver for your senior, it might be time to hire professionals to take up some of the slack and let you get back to worrying about other things.
4. "I miss our old relationship."
Have things changed between you and your senior since you became the sole family caregiver for them? Sometimes there can be tension as the roles seem to be reversed in many instances, and sometimes senior parents have a hard time accepting help for the things that once came so easily for them. If your senior has any issues letting you help them, or likes their privacy and has a hard time with situations in which they have to have little control over, see if hiring third party home care professionals will help relieve some of the tension in your relationship so you can get back to spending quality time with the ones that you love and not be fighting.
5. "I want the best care for my senior."
Chances are, you're doing a great job at caring for your senior parent or loved one alone. And you only want the best for them. We understand that your senior's care is the most important thing and we have specially trained, compassionate caregivers that will treat your senior like their own. When you hire one of our staff members, you can be assured that your senior is getting the best care and that they will be safe, happy, and treated like family.
If you or someone you know needs help with Home Care in Cascade, MI, contact Gauthier Family Home Care. We provide quality and affordable home care services in our community. Call us at (616) 258-2300 for more information.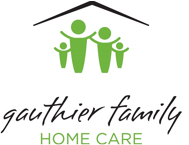 Latest posts by Gauthier Family Home Care
(see all)