Alzheimer's Care – National Grief Awareness Day is August 30th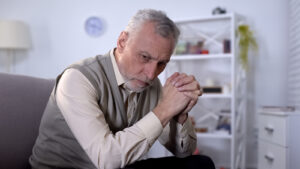 Every year across the U.S., mental health professionals raise awareness of the lasting effects of grief and the many reasons not to ignore the need to grieve. When you have a parent with Alzheimer's, you're in for what's known as the "long goodbye." Grief can last for years and even decades as your dad's cognitive and physical skills diminish.
Watching a parent decline from Alzheimer's will impact your emotional wellness. For National Grief Awareness Day on August 30th, make sure you're taking care of yourself and allowing yourself to grieve using these tips.
Set Aside an Hour a Day to De-Stress
You need to set aside at least an hour each day to de-stress. Find the best method for helping yourself release the tension, sadness, fear, and anxiety that you're going through. For some people, a long walk in nature helps, while others need to do something more active like dancing, Yoga, or boxing.
Focus on the Positive as Much as Possible
There is a point where you need to find the positives in the situation. Yes, your dad is forgetting who you are. He's going to be moody some days, anxious, and even delusional on others. But, there are also going to be those random glimpses of the dad you knew.
You'll be with him on a walk when he randomly spies a flower and tells you about how his mother used to grow them. He might be silent and hasn't spoken in days when he suddenly calls you by your childhood nickname.
Look for those random positive moments, no matter how fleeting they are. They may come and go, but when they do happen, it's amazing.
Learn to Journal Your Thoughts
Keep a journal of your thoughts. When you're frustrated, write about it in your journal. You can keep a journal online or in a notebook; it's up to you to decide what works best for your needs. It's a private, helpful way to vent your anger, fear, and emotions, and you're less likely to filter your thoughts if you're not face-to-face with someone else.
Join a Support Group
Join a support group for family caregivers who are dealing with dementia. It helps a lot to have others to talk to who know what you're going through. Look for support grounds run through the local Alzheimer's Association chapter or your dad's memory care doctor.
Don't Be Afraid to Ask Others to Help
Are you ready to take the first step? Arrange Alzheimer's care services to ensure you have time to focus on self-care. Plus, Alzheimer's care aides can help your dad with the tasks you're not as comfortable doing. Make a call to get started setting up the dementia care services that will support your dad while also helping you.
If you or someone you know needs help with Alzheimer's care in Ada, MI, contact Gauthier Family Home Care. We provide quality and affordable home care services in our community. Call us at (616) 258-2300 for more information.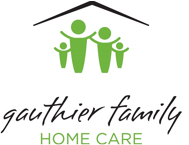 Latest posts by Gauthier Family Home Care
(see all)