How To Choose The Right Alzheimer's Care For Your Senior Parent
Caring for a senior parent with Alzheimer's is tough. Most family caregivers find that they need a little help. And there's nothing wrong with that. If you're taking care of a senior parent with Alzheimer's and you're feeling overwhelmed there are a lot of options for Alzheimer's care.
 If your senior parent is doing well at home and wants to remain at home Alzheimer's care at home is an option. You can get Alzheimer's care full-time for your senior parent or as respite care to give you some time off to do the things that you need to do like go to appointments or even take a few days off to take care of yourself. Some of the things that you should consider when choosing Alzheimer's care for a senior parent are:
Home Care Or Facility Care?
Trying to decide whether home care or facility care is the right choice for your senior parent with Alzheimer's is difficult. But there are some big benefits that come with staying at home for seniors with Alzheimer's. Being in a familiar setting with a familiar routine can help seniors with Alzheimer's immensely. And there are also physical health benefits seniors get from remaining in a  home they love. Alzheimer's care is available around the clock so that your senior loved one never needs to be alone if they live at home. They can be safe and happy in their home while you have the peace of mind of knowing they are well cared for. 
How Much Care Do They Need?
One of the benefits of at home Alzheimer's care is that it can be scaled to the amount of care that your senior parent needs. Alzheimer's is a progressive disease, so as time goes by your senior parent will likely need more help. When your senior loved one is at home the care that is provided by Alzheimer's care can be tailored to exactly what care they need at any given time. It also can be less disruptive for a senior with Alzheimer's to have the same caregiver as time goes on. 
What Will Be Best For Your Senior Parent In The Future?
It can be hard to think about what level of care your senior parent will need as Alzheimer's progresses but when you are trying to decide what the right type of care is for them it's important. As your loved one gets sicker will they be more comfortable at home where they are in familiar surroundings? If so, then Alzheimer's care at home is the right choice for them, and for you. 
Consistency of Care
Consistency and routine are the bedrock of caring for a senior parent with Alzheimer's. Alzheimer's care at home allows you and a care provider to create the kind of consistency and routine that will comfort your senior parent and make them less anxious and afraid. And it will give you more precious memories with your senior parent where they are not anxious or afraid but instead are content.
If you or someone you know needs help with

Home Care in Jenison,
 MI
, contact 
Gauthier Family Home Care.
 We provide quality and affordable home care services in our community. 
Call us at (616) 258-2300 for more information.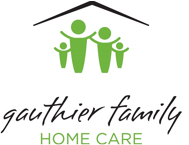 Latest posts by Gauthier Family Home Care
(see all)