Personal Care at Home Tips for Family Caregivers
If you're one of the 38 million caregivers helping an elderly parent or other family members, it's time to look at what you need. Sixty percent of these millions of caregivers are too young for retirement and still hold a job. They're often living in their own home and 30% have children or grandchildren living with them. Sandwich-generation caregivers find it hard to balance everything.
Your dad needs help, but you're having a very hard time balancing all of his care needs. What can you do?
Enlist the Help of Other Family Members
Make sure you have time to take care of yourself. So many caregivers put their own care needs on the back burner while caring for a parent. Not only does this put you at risk of missing early screenings for some chronic health conditions, but it also increases the risk of excessive stress leading to mental health issues.
Talk to your siblings and see where they have room in their schedules to help out. If your brother can start taking your dad to his twice-yearly dentist appointments, it frees up some time for you to see your own doctor and dentist.
If your sister can pick up your dad's prescriptions and groceries, you'll gain a few hours for other chores. Every hour you shave off your weekly to-do list, the better it is for you. That hour you gain could be an hour where you can go for a walk and get fresh air.
Pay Attention to Your Dad's Wishes
Having to rely on your children isn't easy for many adults. Your dad's care needs are increasing, and the one thing that bothers him most is having to have his adult children helping him with intimate tasks like toileting, hygiene, and grooming.
If he's uncomfortable, he's more likely to fight you. Pay attention to his wishes. If you know he's embarrassed having you help him clean up after using the toilet, find another person for that task. Personal care at home providers are worth considering if it eases his stress.
Bring In Outside Help
Sometimes, it's just not possible to provide the care your dad needs without a helping hand. Focus on the things your dad would want you to help with, and let paid caregivers take over the other tasks.
For example, personal care at home aides can help your dad with his showers, oral care, and dressing. While his caregiver is doing that, you can prepare breakfast and eat with him.
Not only will he feel less embarrassed, but it gives you more time to spend quality time with him. Talk to a personal care at home advisor to learn more about having caregivers help your dad with grooming and hygiene.
If you or someone you know needs help with Personal Care at Home in Ada,
 MI
, contact 
Gauthier Family Home Care.
 We provide quality and affordable home care services in our community. 
Call us at (616) 258-2300 for more information.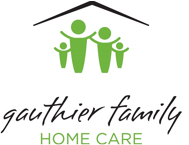 Latest posts by Gauthier Family Home Care
(see all)